Ezekiel Chew is known as an authoritative figure in the forex industry
Founder of Asia's Largest Forex Education company – Asia Forex Mentor. Ezekiel is known to turn failing traders into success stories. Amassed with a huge passion of teaching, Ezekiel has a flair to connect with people and the ability to find the specific reason of traders who aren't making money and proceed to set them right. Ezekiel is also a highly-acclaimed coach and speaker where his talks inspire and influence people to get up and achieve big.
His clients have included thousands of trainee traders, bank traders and private trading institutions. Ezekiel's newsletters, products and appearances now inspire nearly hundreds of thousands people a month.
Asia Forex Mentor – Asia's Largest Education Company* based on traffic numbers for year 2015, 2016, 2017 and most importantly..
Majority of our students know us through referral via word of mouth. Our students recommend their family members, friends, colleagues over to us for 1 reason. They make money with what we teach. No fluff, no bullshit, actual professional trading – the lifestyle method.
"People come and refer others to AsiaForexMentor because what I teach works. I've produced tons of successful students who have gone on to quit their job and become full time traders & fund managers. The list of testimonials which I've collected among the years from my students and mentees are in piles…"
"I've been a full-time forex trader since 2000 and a forex trading mentor for over a decade. Asiaforexmentor was founded in 2008. Way before the whole load of hit and run forex courses and robots (EAs) came to the market. We are the authority in the forex industry and are invited to speak at various events all over the world."
"Over the years, I've tune my trading to be from a trader who is bounded to the screen for 12 hours a day to being a "lifestyle trader" who trades only when there's a setup that meets our plan and analysis (1-2 hours a day). Meaning that I revolve forex around my life and not my life around forex." – Ezekiel Chew, Founder and CEO of Asiaforexmentor
Now, Read This Next Part Very Carefully
The system these students are talking about isn't one of those Forex Robots you've probably seen online. You and I both know that if those really worked, everyone on earth would be buying one.
My students are taught the exact same system I've been using for over a decade to make a full time living as a forex trader. Some of them work day jobs and trade only a few minutes a day, others have become full time forex traders like myself.
If you're reasonably smart and the least bit patient, I'll show you how to do the same thing. It's not hard, but you DO need to know what you're getting into. So let's start by answering the common questions my new students have had about this forex training…
Where Can I See a Sample of What Your Students Are Learning?
To see a sample of what I'm teaching my students in our popular AFM Academy Course, you can sign up for my Famous FREE 5 Days Courriel Course. It's like a mini forex university – where I teach you the essential skills to get you into the Top 10% league of Forex Traders. The skills you'll gain are beyond 90% of the forex traders. Fill in this form and I'll send you full access today FREE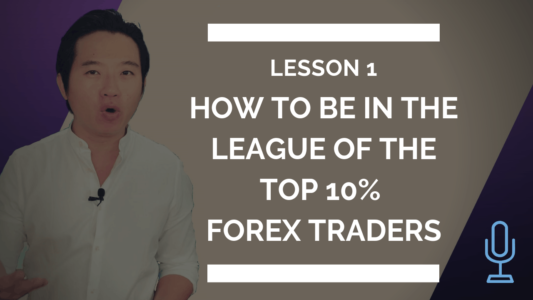 FREE 5 Days Courriel Course
to Get you into
The Top 10% League of Forex Traders
*If you change your mind after signing up, you can cancel your subscription right from your email inbox in just 3 seconds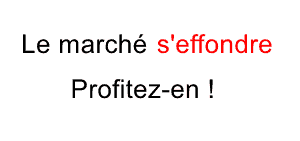 HOLEN SIE SICH DAS PROPRIETÄRE ONE-CORE-PROGRAMM (Le même système que j'utilise pour gagner 6 chiffres par métier avec) Cela fait vraiment mal de voir que le marché boursier s'effondre et que beaucoup de gens se brûlent avec la baisse massive du marché. Voici le graphique s&p où l'on peut voir la baisse massive. En ce moment, le s&p est soutenu[...]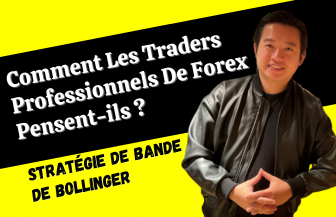 Il est extrêmement important d'apprendre comment les traders professionnels pensent dans le trading forex. Apprenez la loi des grands nombres dans le trading forex et une solide stratégie de bande de bollinger. La loi des grands nombres est très importante en matière d'investissement, en particulier dans le domaine du trading et de la psychologie. Combinée à une stratégie appropriée, dans[...]
Is the AFM Academy Only for Beginners?
No. I have students who are just getting started and I have students who have spent over fifty thousand dollar on Forex training and been actively trading for years.
But the more important question is: How consistent is YOUR ROI and your income? What's your average ROI? Could you quit your job tomorrow and still pay your bills using forex trading alone and still have enough money to keep trading?
If not, what could it hurt to investigate a system that will help you do all of the above? Whether you're advanced or just getting started, what really matters is results. So if you're not consistently getting the results you want, you owe it to yourself to join those who are getting those results.
Isn't Forex Trading Risky?
Any kind of investing is risky if you don't have the right knowledge, the right tools, a good mentor and if you don't manage your own internal sense of urgency. I know people who have lost money trading stocks, bonds, options, currency and even investing in real estate and mutual funds, all of which are supposed to be safe.
Some peoples' money isn't even safe sitting in their savings account because they have no plan for managing it. All this happens because of the person's lack of knowledge, planning and, most of all, lack of self-control.
The good news is, while only 10% of forex traders are profitable, those 10% are consistently profitable. My friend, NO ONE is that lucky. They know something the other 96% doesn't know, they have a dependable system which they follow and they don't let their emotions get in the way.
I'm convinced that anyone can make forex trading safe and profitable. I know this because I've been one of those 10% for over a decade, and if you're reasonably smart and have a little bit of patience, you will be too.
Straits Times Interviews Ezekiel Chew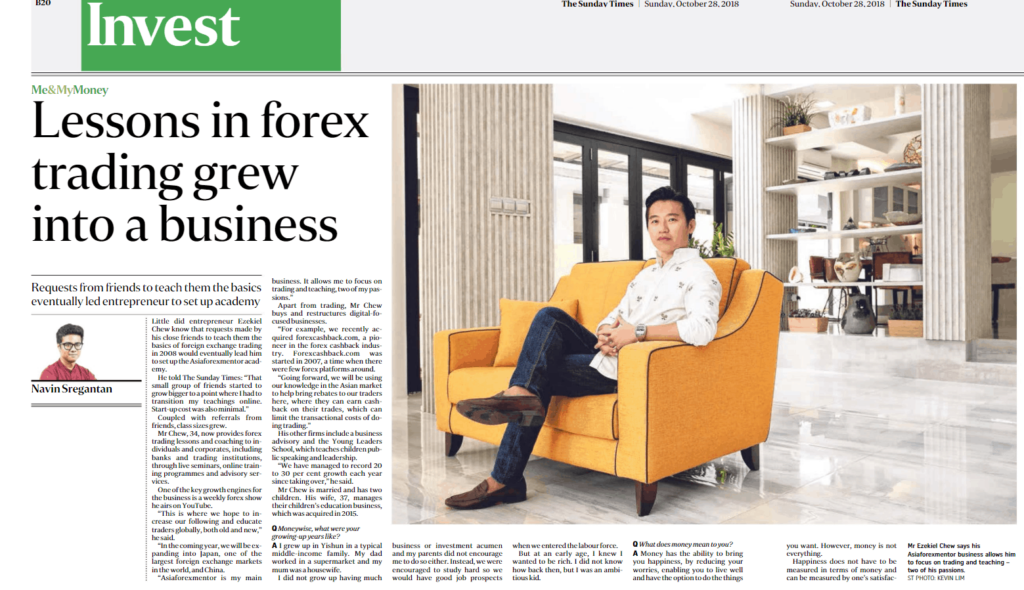 I Have a Day Job, Will I Still Have Time to Trade and Learn this System?
Yes, as long as you're willing to invest just one or two hours a week minimum, you'll be fine. With my forex lifestyle trading methodology, trading doesn't take a whole load of time and not looking at your screen for the whole 8 to 12 hours a day which is extremely bad for health in my opinion.
Traders who spend too much time analyzing and studying at their keyboards usually end up making decisions too late or too early and missing opportunities or losing money.
Amardeep

"Made 70,000$ in 1 year after AFM program."

Casey

"Made 30% growth in 40 days after AFM program"

Royston

Profit USD$30k - USD$65k  in just two month after AFM program.

Sam Manning

Get ready to learn from one of the World's Most Successfull Trader.

Zac Kee

Be prepared to be blown away by the Best in the industry.

Maggie Hiew

The best out of the last 10 courses I've attended
In Your Experience Ezekiel, What are the Biggest Mistakes Forex Traders Make?
Many forex traders make huge amounts of money in just a few days, only to lose it all. This is why it's smart to focus on consistent income instead of getting rich. If you do this well and manage what you do make, you'll be better positioned to start creating wealth from what you've earned.
Wrong Forex Trading Strategy or System:
Most traders spend thousands on forex trading seminars where they learn only a fraction of what's being taught and have no guidance for applying what they've learned. Other's waste money on junk "Robots" and other forex scams.
Using Forex indicators that have lags in data analysis:
Traders who spend too much time analyzing and studying at their keyboards usually end up making decisions too late or too early and missing opportunities or losing money.
Watching their screen too much:
Over analysis leads to procrastination and failure to act on opportunities due to fear or information overload. This is why I discourage spending too much time at your computer analyzing trades and trading positions.
Their Experience Works Against Them:
Traders who have experience working for large companies believe they can do just as well for themselves, but underestimate their ability to self-manage their trading decisions. When they leave their employer, they have no one to hold them accountable and they start making impulsive decisions based on fear or urgency instead of knowledge and strategy.
Put an end to your quest of hunting for forex courses or coaches, there will be a new one popping out every other week. If you are looking for the "Guru's guru" "The Best in the Industry" "One of the World's Best Forex Trader" – as testified by my students.
Disclaimer: Any Advice or information on this website is General Advice Only – It does not take into account your personal circumstances, please do not trade or invest based solely on this information. By Viewing any material or using the information within this site you agree that this is general education material and you will not hold any person or entity responsible for loss or damages resulting from the content or general advice provided here by ECG Pte Ltd, it's employees, directors or fellow members. Futures, options, and spot currency trading have large potential rewards, but also large potential risk. You must be aware of the risks and be willing to accept them in order to invest in the futures and options markets. Don't trade with money you can't afford to lose. This website is neither a solicitation nor an offer to Buy/Sell futures, spot forex, cfd's, options or other financial products. No representation is being made that any account will or is likely to achieve profits or losses similar to those discussed in any material on this website. The past performance of any trading system or methodology is not necessarily indicative of future results.
High Risk Warning: Forex, Futures, and Options trading has large potential rewards, but also large potential risks. The high degree of leverage can work against you as well as for you. You must be aware of the risks of investing in forex, futures, and options and be willing to accept them in order to trade in these markets. Forex trading involves substantial risk of loss and is not suitable for all investors. Please do not trade with borrowed money or money you cannot afford to lose. Any opinions, news, research, analysis, prices, or other information contained on this website is provided as general market commentary and does not constitute investment advice. We will not accept liability for any loss or damage, including without limitation to, any loss of profit, which may arise directly or indirectly from the use of or reliance on such information. Please remember that the past performance of any trading system or methodology is not necessarily indicative of future results.